Featuring Quantum Infused Holograms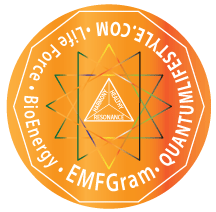 YOU ARE EXPOSED EVERY DAY
Exposure to electromagnetic fields (EMFs) is common in everyday life, especially with the widespread use of electronic devices in households.
Handheld devices such as cell phones, tablets, laptops, and gaming devices emit EMF and/or RF radiation. These devices potentially have adverse health effects on your body's immune system. Especially when exposed to high levels of this electronic pollution for prolonged periods.
When your body spends its energy trying to fight off the harmful effects of radiation, you become more fatigued. This may result in you needing more sleep or not sleeping well throughout the night.
As this continues, your immune system will begin to weaken, making you more susceptible to illness and various diseases.
The Quantum Lifestyle EMFgram™ is designed to support restoring balance to the body's natural energy fields that may have been disrupted by the effects of non-ionizing radiation (EMF & RF).
EMF stands for electromagnetic field or electromotive force. The movement of electrically charged particles creates an EMF. This harmful electronic pollution is produced by electronic devices. RF (Radio Frequency) and EMF from devices are believed to have health risks, such as weakening the immune system.
The EMFgram™ does not change or redirect EMF or RF radiation emitted from devices. It has been created to restore balance to the body's natural energy fields disrupted by EMF radiation. With a simple muscle test, you will see this is similar to grounding or earthing.
USAGE: For external use and placement on electronic devices.
100% PRODUCT GUARANTEE: We stand by the quality of each product with a 100% satisfaction guarantee.
DISCLAIMER: This product does not change, reduce or redirect EMF or RF radiation emitted from devices. It has not been evaluated by the Food and Drug Administration (FDA) and is not intended to diagnose, treat, cure, or prevent any disease or condition. Information provided here is intended for educational purposes and not medical advice. This product is for external use only and is designed to be used on electronic devices.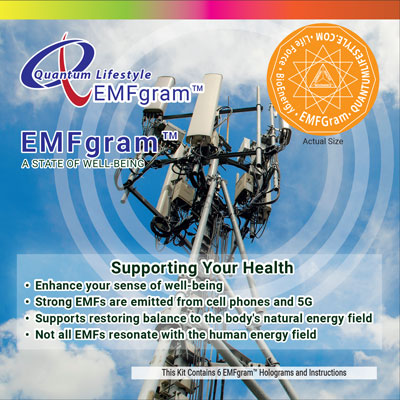 Each EMFgram™ Kit contains 6 self adhesive Quantum Infused QuantaGrams.
Instructions for use: Peel and stick an EMFgram to the back of your cell phone or on the back of the case.
EMFgrams can be placed on all your handheld electronic devices, such as cell phones, tablets, laptops, gaming devices, and others.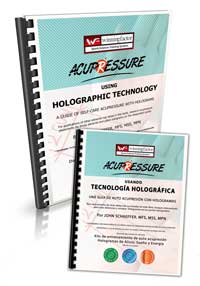 Exclusive book about holograms and acupressure
ACUPRESSURE USING HOLOGRAPHIC TECHNOLOGY
Written by John Schaeffer, Sports Scientist, Trainer of Pro Sports and Olympic Athletes. English and Spanish version.
Read More…